The BunnyCDN team is very happy to announce a huge network upgrade that we have been quietly rolling out over the past few months. We are incredibly excited to say that BunnyCDN has recently expanded to 9 new datacenters and now operates from 34 points of presence worldwide.
34 Global Points of Presence
After carefully analyzing our global performance over the past months, we have strategically planned, tested and expanded our network into a total of 9 new locations. We have added a presence in Vilnius (Lithuania), Istanbul (Turkey), Prague (Czech Republic), Bangkok (Thailand), Hong Kong, Melbourne (Australia), Brisbane (Australia), Perth (Australia) and Auckland (New Zealand).
After a long time of testing, we also decided to remove our PoP in Kansas City. It proved it wasn't providing a performance benefit to our existing network in the United States due to poor regional connectivity and in the end, the removal actually resulted in an improved performance. We have also moved our Stockholm PoP into Oslo, Norway as it complimented our network better while offering a very similar performance into Sweden.
The new expansion pushes BunnyCDN even further ahead in terms of performance and we are happy to say that despite our incredibly low cost, we now operate one of the fastest content delivery networks worldwide.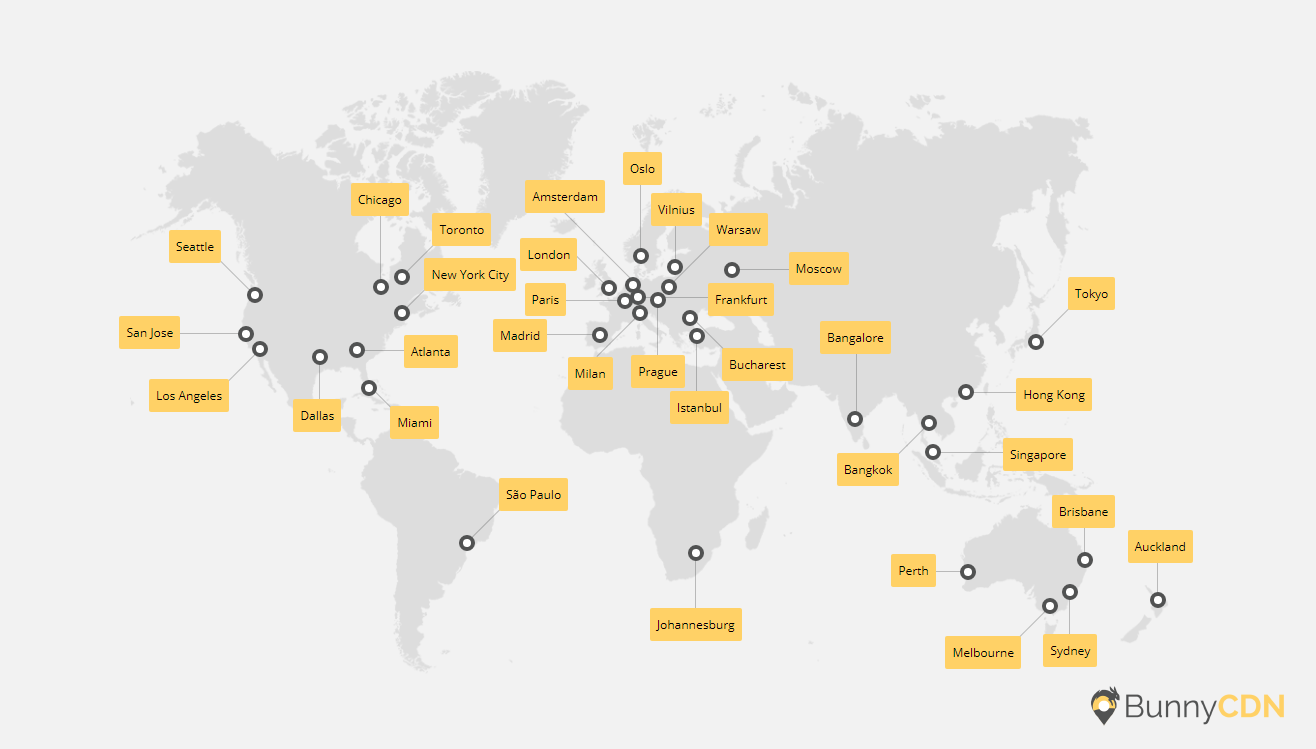 Building The #1 Network In Oceania
As you might have noticed, a big focus for the expansion has been Oceania. For a long time, Australia and New Zealand have proved as one of the most expensive regions with many CDN providers and offered poor performance if not done right. We wanted to change that.
In addition to Sydney, we opened 4 new points of presence in Perth, Melbourne, Auckland and Brisbane. The result was one of the fastest performing CDN networks in Oceania with the majority of users in Australia and New Zealand being less than 15ms away.
But the best part, we did all of this while keeping our game-changing $0.03/GB pricing. With this in mind, we believe that BunnyCDN is now without a doubt the #1 CDN choice for serving Oceania.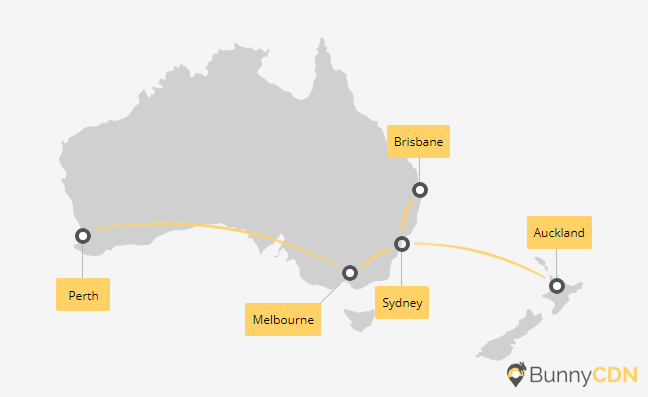 Routing Optimizations
Besides just opening new locations, we have also performed a large amount of network and routing optimizations, especially in Europe, Asia and South America. This resulted in an almost 10% decrease in the average global latency and a greatly improved performance for millions of internet users worldwide.
The best part, according to real user benchmarks, BunnyCDN on average now ranks as one of the top 3 performing content delivery networks in Europe, which is incredibly exciting for us.
We want to keep this pace and continue moving forward to make things even faster in the future.

What's Next?
We are very excited about the current expansion, but it doesn't stop here. We are constantly exploring new locations, ideas, and possibilities to see how we can further improve BunnyCDN. In the future, we will be focusing even more on the United States, South America and, Asia.
With the network upgrade live, we are also getting ready to start rolling out some new features such as automatic billing, IPv6 and diagnostic tools that we are currently working on as well as many other exciting new things that are coming later this year.
Finally, we would like to take this opportunity to thank everyone for using BunnyCDN. We couldn't do this without you and we are working hard to make BunnyCDN even better in the future.