Video consumption around the world has been steadily on the rise and growing faster and faster every year. In fact, it is estimated that every second, over a million minutes of video is viewed around the world.
As a content delivery platform, bunny.net already helps accelerate hundreds of thousands of terabytes of video traffic every month. However, CDN and storage are not the only two pieces of the puzzle. To efficiently deliver video, you also need to transcode to different resolutions, generate thumbnails, set up captions, and then package everything up with a video player.
This is time consuming, expensive and sometimes overly complicated. At the moment, different services will either offer encoding, storage, video player, CDN or an overly expensive, stripped down combination of the four. We thought that just wasn't good enough.
Making video delivery as simple as a carrot!
With Bunny CDN and Edge Storage, we already provide two key components for extremely efficient video delivery, so we thought, why not solve the whole puzzle and help everyone that is struggling with this. We put our bunnies to work and we are delighted to announce Bunny Stream!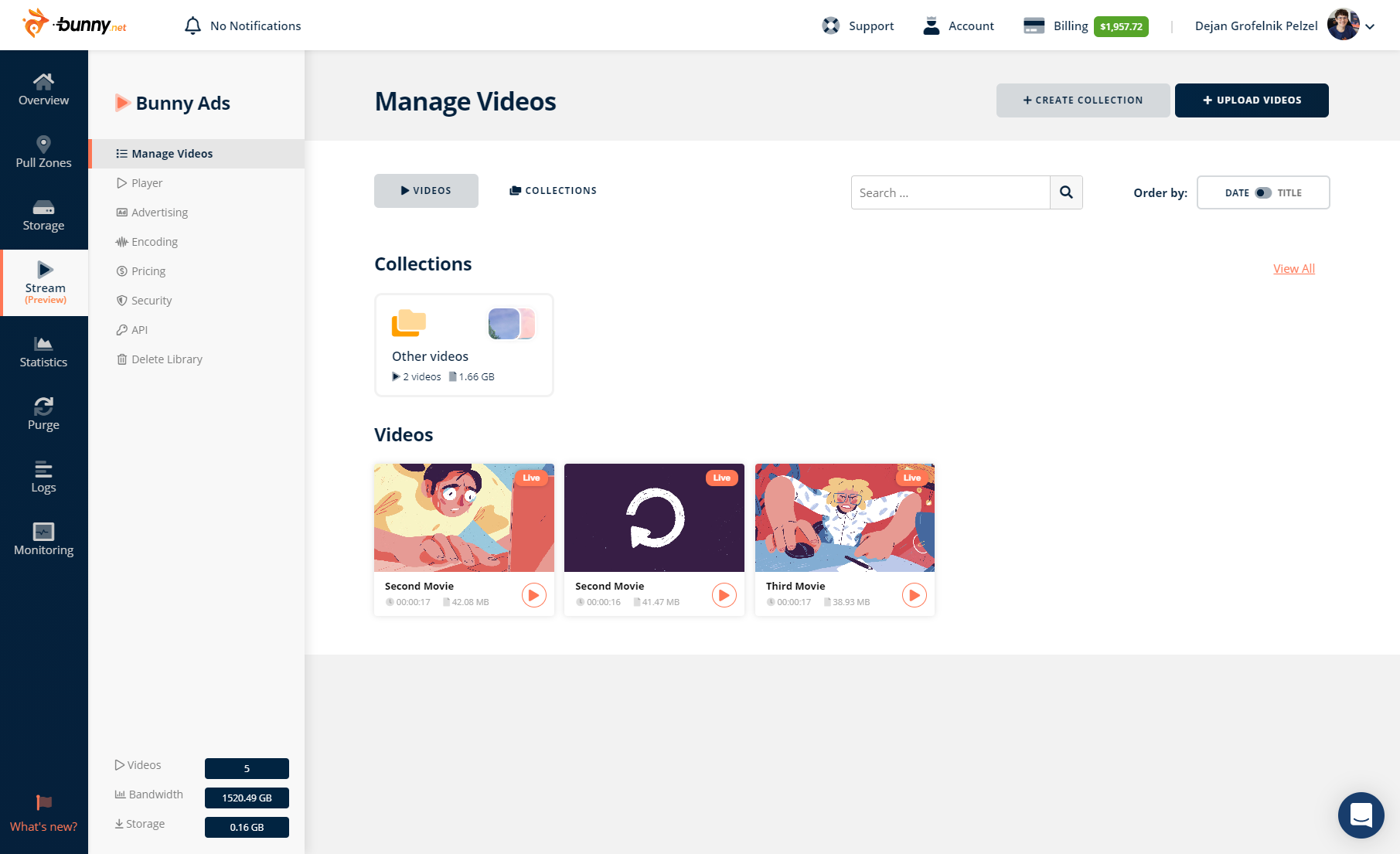 A better way to deliver online video!
The goal for Bunny Stream was to create a better way to deliver online video. We moved all the annoying bits under the hood, and packaged everything into a powerful, but very intuitive platform that allows you to get started in just a few clicks.
Simply upload a video, copy the embed code and you're good to go. We handle all the transcoding, player integration, playlists, captions and thumbnail generation.
No more nasty transcoding fees, no more messy file transfers, complex APIs or manual CDN integration. Bunny Stream was designed to be easy to implement and developer friendly, allowing you to get started in just a few minutes.
Experience performance like never before.
At bunny.net, it is our goal to build a faster internet, and great performance has been our first priority. Naturally, Bunny Stream is directly integrated into Bunny CDN. Thanks to our 30Tbps+ backbone and 53+ PoPs around the world we can deliver video content reliably at any scale, in any place.
However, where things get even more exciting is the storage, the area where traditional video CDNs really struggle. It's not uncommon to see buffering or slow seeking, just because the video wasn't yet in cache on the CDN. This is where our Edge Storage comes in.
Thanks to global data replication we assure exceptional performance for every request, no matter if that was cached or not. Bunny Stream delivers a reliable and enjoyable experience to your users no matter where they are. We actually surprised ourselves with just how much better video experience we could deliver compared to traditional services thanks to Edge Storage.
As simple as it gets. As powerful as you need it.
Bunny Stream is easy to use, but that doesn't mean we need to sacrifice on features or flexibility. If our built-in player doesn't work for you, we leave you with complete access to the raw video files, thumbnails and captions.
You can bring your own files, download the mp4 files, upload your thumbnails and even completely customize the embed HTML view. We want to empower all the developers out there to easily work with video, while giving you all the tools you need to help you focus on your own product, not the video processing.
Powerful security.
We understand that not every video should be available to everyone, so we also built in powerful security features that allow you to control exactly who and where can watch your content.
To level up security even further, we developed MediaCage, a basic clear-key DRM system that offers powerful dynamic encryption deeply tied into the player and Bunny CDN. While it's not a full enterprise DRM, MediaCage blocks the vast majority of download plugins or direct download attempts. This is thanks to a smart key vault system with dynamic encryption and authentication.
With MediaCage, the content can only be played if a valid license key is passed from our security platform for maximum security without having to rely on complex and expensive enterprise DRM systems.
Simple API
Bunny Stream was designed for developers in mind. We developed the platform to be as easy to implement into your own platform. If you're building the next short video app or content sharing website, this has never been easier, while also giving you the full control.
How much does it cost?
So that's all great, but how much does it all cost? Absolutely nothing! We only charge you for the Edge Storage and traffic leaving Bunny CDN. When we set out to improve video delivery, that included the costs as well!
In fact, we already saved thousands of hours of video encoding time for our users saving tens of thousands of dollars that would otherwise be charged by cloud encoding services.
Time for a demo!
Finally, enough talking and let's see the bunnies in action. What better way to demonstrate this than with one of our short ads that we recently launched. Let's smash some bunnies :)
Take it for a spin!
We're very excited about Bunny Stream and invite you to test it out yourself. It has now been enabled for everyone and is currently in preview with an estimated general availability by the end of Q1 2021. We invite you to give it a go, share some feedback and let us know what you think! We're on a mission to build the best possible platform for you and your feedback is what helps us achieve that.