We are continuing our series of updates for Bunny Stream to help developers and webmasters with a better way of delivering online video. Today, we're excited to announce two of our most requested features, Chapters and Moments that make content discovery inside of videos easier than ever before.
Improve Video Navigation With Chapters
Chapters allow you to easily section videos and help viewers navigate through content to the sections that they want to see. Each Chapter is shown in the video timeline and highlights the current section and title.

Most of us are already familiar with the systems from major platforms such as YouTube, but it's hard to find a decent implementation of video chapters outside of that. At bunny.net, we wanted to bring this system just a few clicks away from anyone without charging an arm and a leg (or bags of carrots).
We made the interface as simple as possible to allow you to section videos by simply entering a set of timestamps and a label.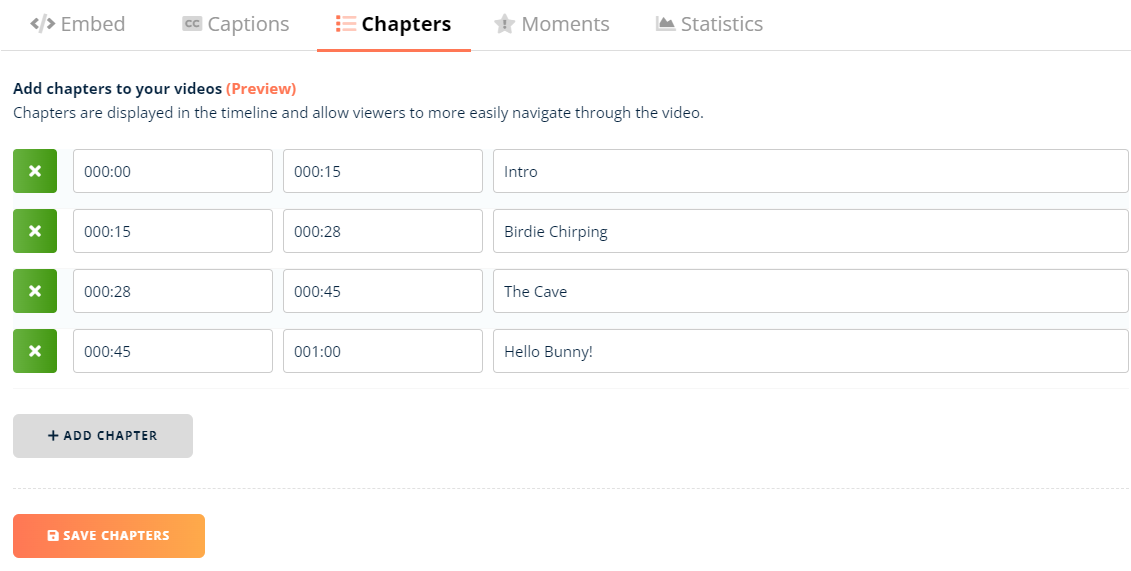 Fill the list, click Save, and you're good to go!
Highlight Important Moments
Moments allow you to highlight interesting parts of the video to indicate important moments or explanations on a specific timestamp. Configuration is as simple as setting a set of times and titles and the player will do the rest.

Both Chapters and Moments will also work hand-in-hand and can easily be configured together. Moments will simply appear as a small circle on the timeline to make browsing your videos a breeze.

Full API Integration
Bunny Stream was designed with developers in mind, so both Moments and Chapters have full API integration available and can be configured programmatically.
While unfortunately we can't show sections outside of the Bunny Stream player, it's our goal to make our player as configurable as possible so you can make it completely your own, no matter if you run a small website or a global video learning platform.
Mobile Friendly
Our main goal was to make both Moments and Chapters completely mobile friendly and work within any browser. We're happy to say that both work not only on desktop browsers, but are also fully compatible with all modern phones as well.
See it in action!
Finally, we think it's best to see it all in action with a short clip of our favorite open source film, Big Buck Bunny.
Bringing a great video experience to everyone!
Chapters have likely been the most requested feature since we launched Bunny Stream and we're thrilled that this is finally available and make video navigation a breeze.
It's our vision to continue improving Bunny Stream and build a great video experience to all developers, content creators and webmasters available with just a few clicks and without locking features besides hefty fees.
We invite everyone to hop on and give Chapters and Moments a go and if there are any other features that you'd love to see to make sure and let us know!
If you want us help make a positive change on the internet, make sure to check out our careers page as well! We are working on a lot more exciting things as well.