It's been a while since we released the initial edge rules. They allowed users to triggers actions based on simple URL based triggers. Today, we are excited to announce that the edge rule system has been completely reworked and is now more powerful than ever. We worked on the new rules based on our own observations, as well as user feedback to open a big set of new functionality for both content management as well as dynamic content delivery.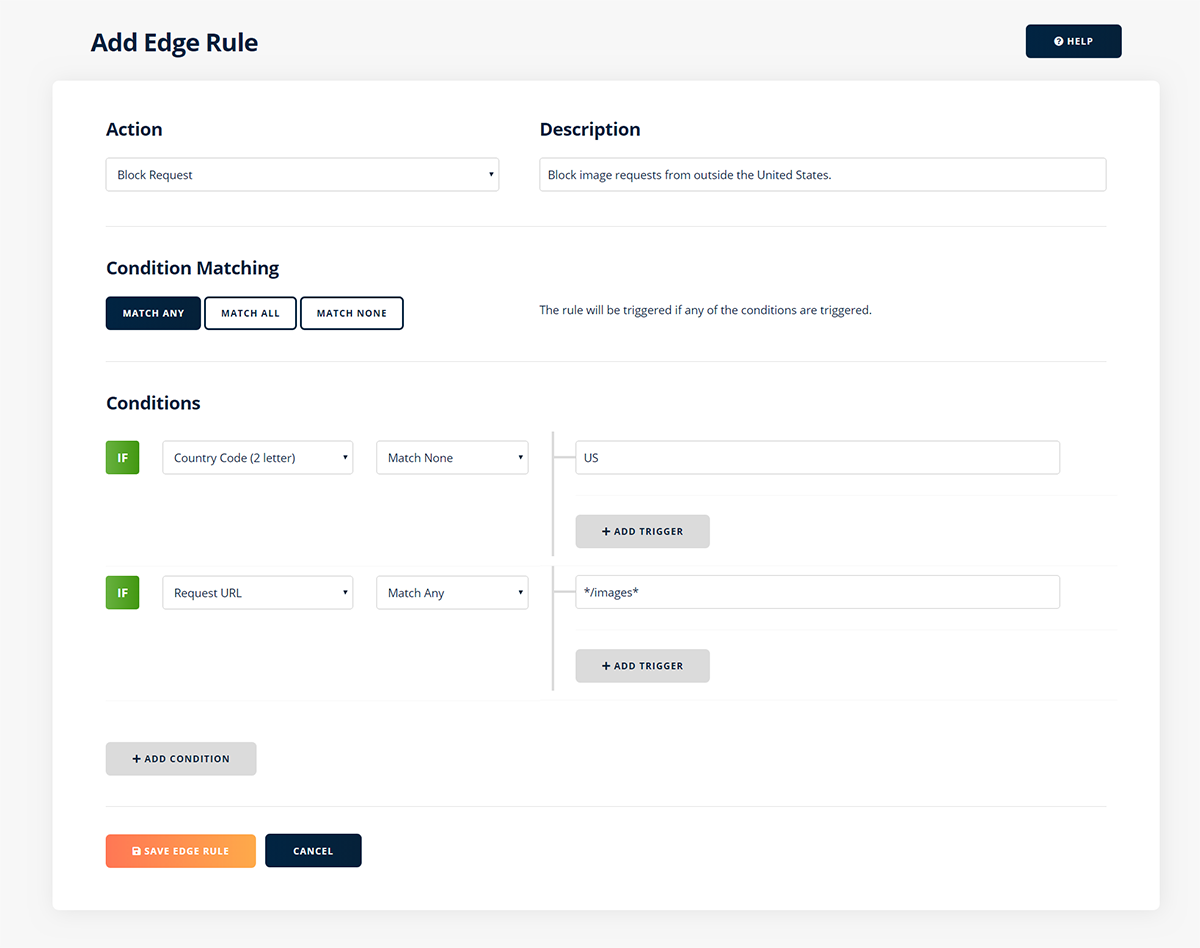 Advanced Trigger Matching
The biggest change happened with the edge rule triggers. We built a powerful new engine that can be set up with multiple triggers for each rule and a new matching system that allows you to define that any, all or no triggers must be triggered in order for the edge rule to be executed with two levels of matching.
For example, you can now block all requests to /video and /downloads directories, except .jpg files.
New Trigger Types
Another big improvement happened with the trigger types. With the old edge rules, you were limited to matching only the URL of the request. We felt that this was very limiting, so we added multiple new trigger types to the new edge rules:
Request Header
Response Header
Country Code
Remote IP
File Extension
More are coming in the future such as mobile device detection etc.
New Interface
As you might have noticed from the examples above, we also created a brand new, hopefully very intuitive interface to better manage the much more advanced system. It allows you to tag rules with descriptions, to make sure you remember what exact purpose they serve. We are still tweaking some parts of the UX, so if you have any suggestions, please do let us know.
Edge Rule API & Knowledge Base
We are also happy to announce that with the new update, the edge rule API is finally here. It allows full management of the rules programmatically and you can find the new documentation on our documentation page.
Some of the guide articles in our knowledge base still contain the instructions for the old system, and we are working on that right now. We will be updating all the existing knowledge base articles with the new interface and instructions shortly as well as add new ones to explore some of the new options available with the new edge rule system.
Pricing Considerations
Finally, as the edge rules are getting more and more complex, they are also putting more demand on our infrastructure. To ensure we can keep up with the great performance that we offer, we are currently considering charging a small monthly fee of around $1 for each rule after a certain number of free rules for each zone.
The new edge rules are already available in the dashboard and all the old rules have already been migrated. Give it a try and let us know what you think!