Having data about your project is extremely important. Understanding your CDN traffic can provide an important insight into issues, bottlenecks and potential optimizations available for your content. Since our early days, bunny.net provided access to raw request logging, but it was up to our customers to parse and process that. Due to the added complexity, it meant that the terabytes of logs from tens of billions of requests that we are storing every day were not really providing all the information they were holding.
We wanted to change that and help you unlock the useful information held by these logs to give you a better oversight into what's going on with your content. We are excited to introduce Log Reports, a new metric reporting system that can automatically take your logs and turn them into useful information in just a single click of a button.
Our system will automatically download, process and extract information from log files for you in a simple and clean overview.
Unlock your insight with Log Reports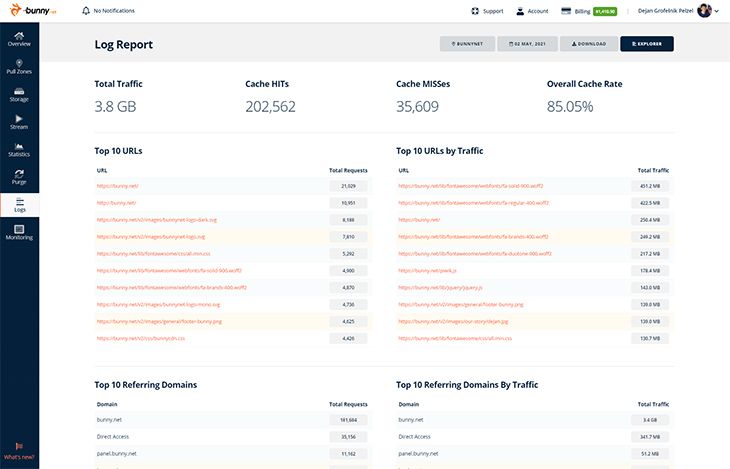 The following metrics are currently available:
Total traffic per day
Cache HIT and MISS per day
Cache hit rate
Top 10 requested URLs by traffic and requests
Top 10 referring domains by traffic and requests
Top 10 countries by traffic and requests
The list of least-cached URLs
The top 10 URLs with the highest error rates
Breakdown by HTTP status codes by traffic and requests
Top operating systems by traffic and requests
Top 10 browsers by traffic and requests
Error rates by CDN PoP
Error rates by user country
Request count by hour
Better control of your content
The Log Reports now give you a better insight than ever into your CDN metrics, user behavior, abuse, hotlinking and even potential issues with your content. You can easily spot unwanted sites, IPs or issues with your configuration to save bandwidth, find errors or block bad actors.
We are excited to be able to bring this level of detailed information and are continuing to explore additional data to include. If we missed something that you would like to see on the list, as always please do let us know. We will be delighted to see what we can do to help out and make this an even more powerful tool for you.
Find out more about Bunny CDN