We are thrilled to unveil an exciting addition to Bunny Stream, our innovative end-to-end video delivery solution.
Say hello to AI Transcribe: a powerful new way to simplify your video workflow, enhance accessibility, and help you reach a wider audience than ever before.
Powered by the latest advancements in AI technology, the new update adds transcribing and translation capabilities directly into your existing video workflow. Bunny Stream can now automatically transcribe, caption, summarize, and translate your content for any video you upload.
From content creators to software developers looking to build the next generation of applications, it's our goal to revolutionize the way you handle video content and help you build a seamless video management workflow.
Instant Audio Transcriptions
Manual transcription can be as tedious and costly as chasing a bunny down a rabbit hole. It can take multiple hours to transcribe and timestamp just a few minutes of video.
Bunny Stream's new transcription process makes that a thing of the past by automatically and instantly transcribing any uploaded video into precise, accurate, text-based transcriptions.
Whether you're a content creator, a business professional, or an educator, we welcome you to a whole new world of productivity!
Powered by Whisper, an AI model trained on over 680,000 hours of video (approximately the average human lifespan), Bunny Stream approaches near-human-level robustness and accuracy in English speech recognition.
Automatic Translations
We live in an increasingly global society, yet beautiful as they are, the world's many languages still keep us far apart. Still, over 75% of consumers prefer to buy content with information in their native language.
The new AI Transcribe allows you to hop over the language barriers and expand your global reach by providing automatic captions and subtitles that cater to diverse audiences.
Reach nearly 80% of the world's population with automatic translations to 57 languages, including English, Spanish, French, Chinese, and more, and enjoy a new level of accessibility that was never possible before.
AI Video Titles and Descriptions
We understand that captivating titles and engaging video descriptions are vital components of successful content. A video title can mean the difference between getting views or not.
To help with that, the Bunny Stream AI Transcribe can automatically generate compelling titles and summarized descriptions for your videos.
This intelligent automation saves you valuable time and ensures your videos are optimized for search engines, boosting discoverability and viewer engagement or for easier automatic segmentation.
Built for Developers
The new transcribing features integrate seamlessly into the existing Bunny Stream workflow. Any uploaded video is automatically transcribed, with the full metadata and transcripts available through the API as soon as the transcoding process is complete.
Our mission with Bunny Stream is to help developers build and deploy the next generation of video applications, so we combined an otherwise complex and expensive workflow into a single upload API call. AI Transcribe is just another push to make that a reality. From sales intelligence to social media content, AI Transcribe unlocks countless possibilities and applications.
From sales intelligence to social media content, AI Transcribe unlocks a world of new possibilities and applications without taking weeks to get started.
Simple Flat Rate Pricing
At bunny.net, we're strong believers in simplicity, both in terms of products, but also in terms of pricing.
Keeping that mantra, we've made the pricing as simple as possible. Bunny Stream's AI Transcribe is available at a flat rate pricing of just $0.1 per minute per language of transcribed video.
There are no hidden costs, no monthly minimums, and no complicated pricing tiers — just an affordable and reliable solution to enhance your video workflow.
Available Now!
The transcribe feature is available immediately, ready for you to explore its capabilities and start simplifying your video delivery.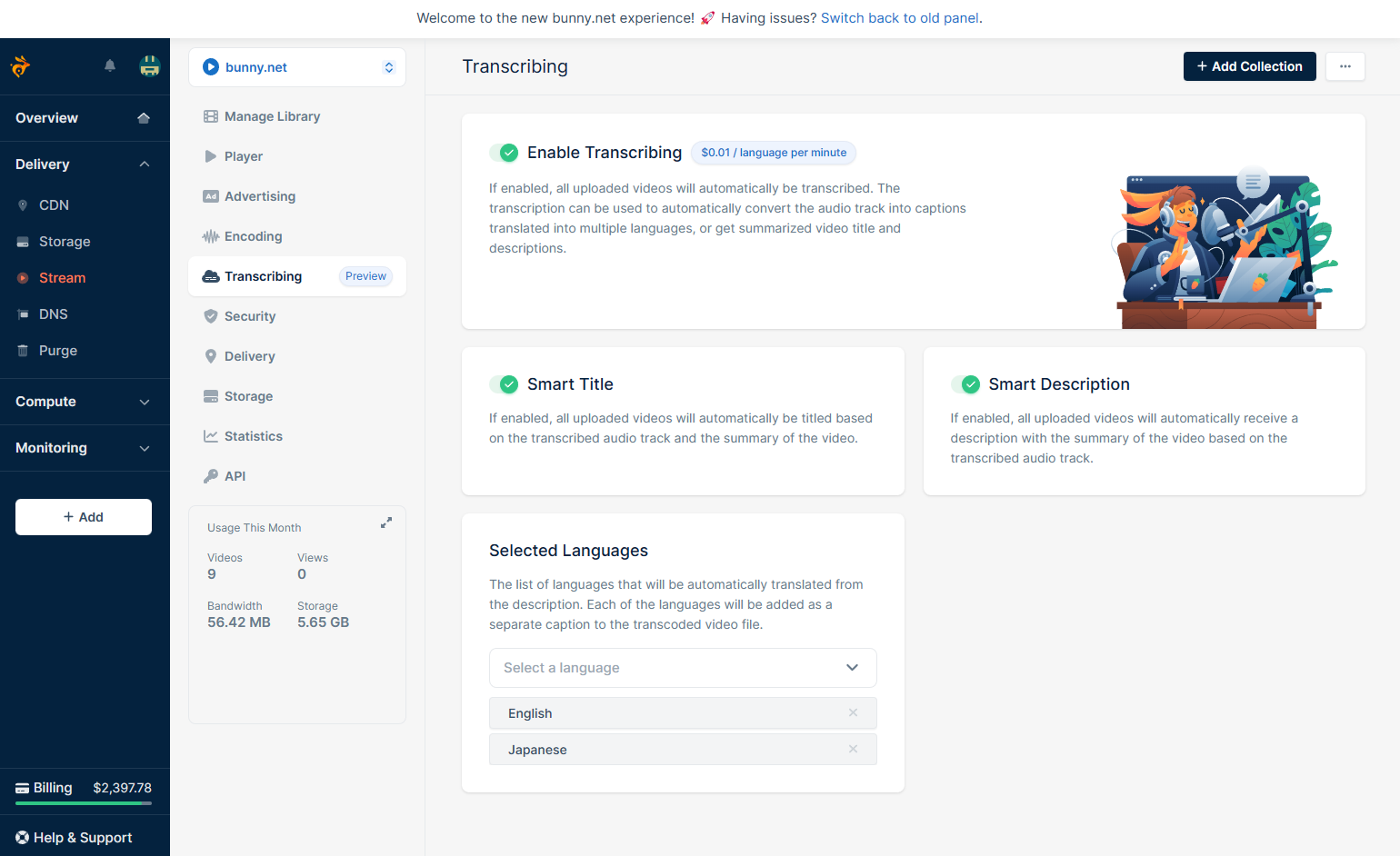 We are excited to be part of your journey, empowering you to reach new heights and audiences who can now effortlessly understand and engage with your video content.
Join Us in Shaping the Future of the Internet!
At bunny.net, we are driven by our relentless pursuit of excellence. Every day, we strive to enhance the customer journey, making it smoother and more enjoyable for millions of internet users worldwide.
We are passionate about building a faster, better, and more efficient experience. If you share our enthusiasm and would like to contribute to shaping the Internet of tomorrow, we encourage you to explore our careers page. We have a dynamic team working on groundbreaking products that have the potential to transform the digital landscape.