When I started bunny.net, the vision was simple: to build an amazing product that would help everyone, not just large companies accelerate their content. Over time however, this vision grew into something much different: an obsession.
An obsession to help shape the future of the internet through relentless innovation, and to improve the internet experience for billions of people around the world by helping developers deliver better performance, security, and reliability.
For short, it is our mission to make the internet hop faster!
Today, I am excited to share a major next step to push this vision forward and announce our  $6 million series A funding round!
Why raise our series A now?
Until now, bunny.net was completely bootstrapped. We've turned less than a $1000 into a fast growing multi-million dollar revenue business with tens of thousands of customers worldwide. But I never felt like it was a good time to raise money.
Being independent allowed us to go slow and focus on building our vision and an exceptional product in the way we, and consequentially, you would love.
While we have a lot of work left, we believe that we've now achieved this.
We are now ready to push bunny.net to a broader audience and pursue our vision and passion stronger than ever to truly help supercharge the internet.
What's next?
Today, bunny.net is operated by a team of 35 people. We are focusing on relentless innovation and an obsession of building the best possible product. We achieved a lot with a tiny team, but we are ready for so much more. We are now looking to expand that with new exceptional talent that is passionate about making the internet a better place.
This is what the funds will be used for:
Completely redesigned control panel
Many innovative new products and features
Offering even better performance
Improved platform stability
Unmatched customer support (Go Super Bunnies!)
Better documentation
Here's a sneak peak of what's coming: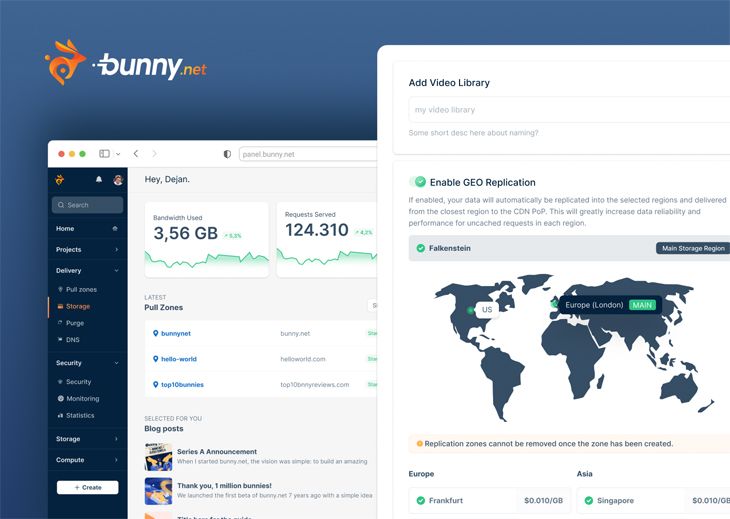 The Big Picture
It is our mission to help the internet hop faster, with a goal of helping companies and developers build a faster, safer, and more reliable internet.
To do that, we are continuing to pursue our vision of building the fastest network in the world and help power content delivery on a massive scale. We've finished September as the third fastest CDN in the world. Next, we are taking the core CDN product and building on top of it to replace the legacy centralized cloud systems with a developer focused edge-cloud platform to help you build, accelerate, secure, and run the next generation of web applications right next to their users. We believe the future of the internet lies on the edge, and we want to help you get there.
With that, we are continuing our focus on simplicity, relentless innovation, and providing the best customer experience in the industry to build a platform that you will truly love.
We're opening a bunch of new positions, so if you enjoy what we're doing and connect with our vision, make sure to check out our careers page or simply drop us an email to hello@bunny.net if your position isn't up there just yet, we are always happy to hear from you.
Our Partners
Throughout the years, we received a constant influx of funding, or even acquisition offers. But nothing really peaked my interest until I spoke with Dmitry Galperin from Runa Capital. Dmitry connected with our vision and showed an immense knowledge of the industry, and we decided to start this journey together to take bunny.net to the next stage.
Runa Capital was later joined by Capital Genetics, a fellow company from Slovenia that also believed in our vision and wanted to help out in making it a reality.
The team came together to help make bunny.net hop even faster and I want to thank them again for believing in us!
Thank you. So much.
Finally, to put it simply, myself personally, and the whole bunny.net team would like to thank you, so much. Thank you for believing into our vision and thank you for helping us pursue our goal of building a better internet. Without everyone one of our users, or simply just readers, we wouldn't be where we are today.
We promise great things are coming next, and thank you once again for helping make the internet hop faster! Stay tuned for some very exciting updates coming in the near future.