As part of our mission to help make the internet hop faster, we want to help our customers not only deliver, but also store content around the world, right next to their users. This way, we can guarantee excellent performance, regardless of files being cached on the CDN or not, as well as help with any necessary local data regulations, especially growing concerns around GDPR and privacy.
Initially, Bunny Storage launched with 5 strategically selected regions to provide great performance around the world. But we're not here to make content hop fast enough, we're here to supercharge it.
Today, we're excited to announce that we are beginning our global expansion plan for bunny.net Bunny Storage with two new regions in Europe, namely London and Stockholm.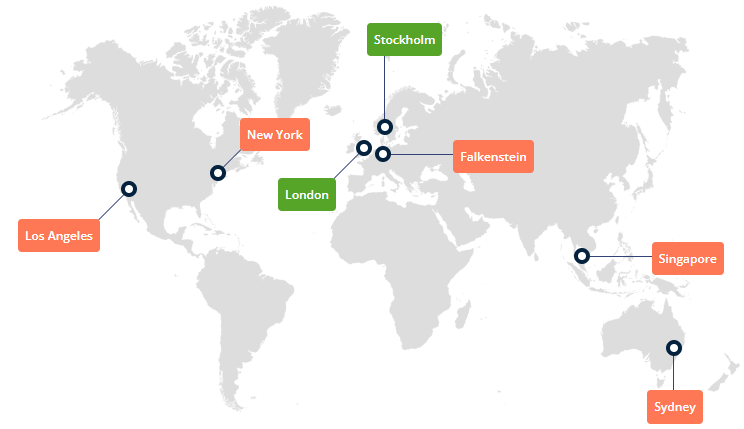 We understand that storing data in many different regions can get costly. To help make this a reality and help our users push their data globally, we recently announced massive discounts that reduce the cost of Bunny Storage up to 67% and prices as low as $0.005/GB per region.
Next, it's our goal to continue expanding Bunny Storage worldwide!
Bringing content closer to your users
We are honored that bunny.net is used by tens of thousands of customers around the world from 183 countries and counting. However, that also means that our end-users might not always be next to one of the 7 regions. London and Stockholm are just the first steps in our global vision.
As we continue building towards powering truly global-scale internet applications and onboarding more large-scale projects from different regions, we want to bring our customers the ability to store data as close as they need it, wherever that is. This helps us not only push performance to the next level, but also help with various legal requirements with data regionality. You can pick and chose whichever regions you would like to keep your data in to hit your budget, performance goals, as well as legal requirements.
Helping With GDPR Compliance
With ever increasing pressures of the EU to keep data local, the first two regions have been largely selected in accordance with privacy and data protection in mind. Being a European company, we want to help other companies legally keep and process their data while staying fully compliant with GDPR laws.
Since we encourage at least two regions to be replicated to maintain data safety, it was not possible to keep data strictly within the EU up until now. This changes today with 2 new compliant regions. You can now enjoy our automatic failover as well as significant performance benefits, while still keeping data fully local.
Help Building A Faster Internet
If you align with our vision of helping make the internet hop faster and enjoy solving complex technical challenges on a large scale, make sure to check out our Careers page! We have an ambitious plan and looking for a set of amazing new team members to help build the internet of tomorrow!