At bunny.net, we are always looking for innovative ways to help our customers achieve their goals. Today, we are thrilled to introduce our latest feature: Routing Filters. A new system that allows you to fine-tune the Bunny CDN routing behavior with just a few clicks.
We designed Routing Filters with GDPR compliance in mind. While our full network is already fully GDPR-friendly, the new feature makes it easy for businesses to push things further. Sometimes, you simply don't want traffic or data leaving the EU at all. The Routing Filters allow exactly that, and help you adhere to the highest standards of privacy and security.
Why GDPR compliance matters
Non-compliance can lead to significant fines and damage to a company's reputation. To help our customers simplify GDPR compliance, we've developed Routing Filters, a feature that offers an easy and efficient solution to routing personal data strictly within the EU.
Introducing Routing Filters
Routing Filters is a powerful feature that allows you to control the flow of your end users' data with just a single click. By enabling Routing Filters, your content will be served exclusively from our 24 Points of Presence (PoPs) within Europe.
Currently, bunny.net has a direct local presence in nearly every country of the EU and covers Austria, Bulgaria, Croatia, Cyprus, Czech Republic, Denmark, Finland, France, Germany, Greece, Hungary, Ireland, Italy, Latvia, Lithuania, Luxembourg, Netherlands, Poland, Portugal, Romania, Slovakia, Slovenia, Spain, and Sweden.
This ensures that all personal and private data remains strictly within the European Union, while also maintaining an unparalleled performance in these markets. This added layer of security and control helps you achieve GDPR compliance with ease.
Getting started with Routing Filters
To begin using Routing Filters, simply log in to your bunny.net account and navigate to the Pricing & Routing settings. From there, you can enable the European Union (EU) routing feature with just a single click. It will automatically apply to both Standard and High Volume tier zones and will automatically remove any locations outside of EU from the routing engine.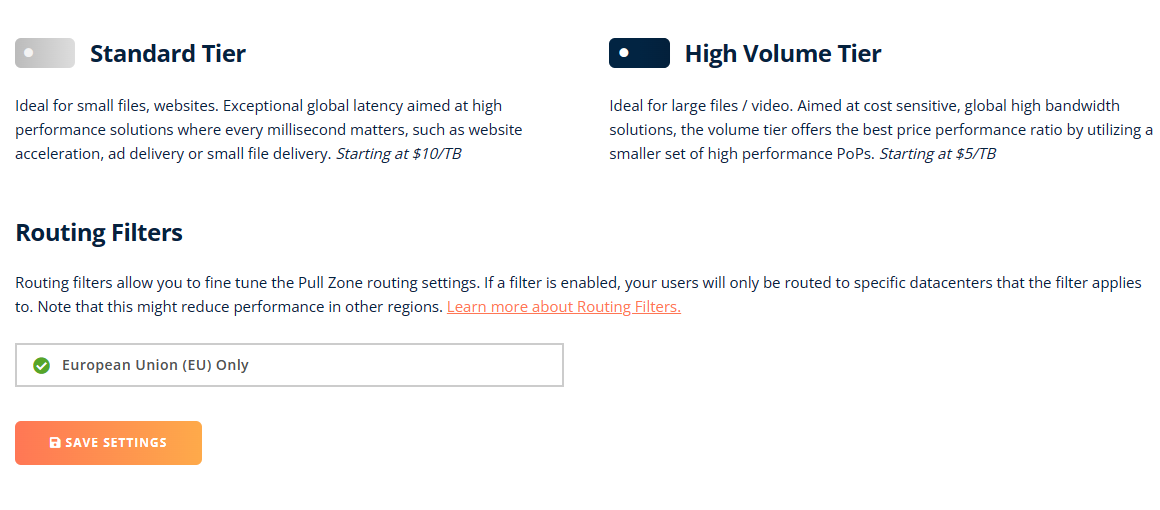 Once enabled, all your end users within the European Union will be routed exclusively through our 24 PoPs within Europe, ensuring that their personal and private data remains secure and compliant with GDPR.
What does this mean for performance?
Currently, bunny.net spans almost every country in the EU, and consistently provides exceptional local performance.
However, it is important to understand what the Routing Filters mean for global performance. After all, at bunny.net, our mission is to help make the internet hop faster. To pursue this mission, we are constantly tweaking, and expanding our global network to as many regions around the world as possible, which today, powers the fastest network in the world.
By design, the Routing Filters significantly limit this global coverage and will strictly cause all traffic to be routed to a limited number of locations. Therefore, any region outside of EU will also be routed to the filtered selection, which will negate most performance benefits outside of the European Union. We only suggest this feature to be enabled where strict local compliance is required and the majority of your audience resides within the EU.
Simplifying compliance at bunny.net
As a European company, the routing filters have been mainly designed around GDPR, but this is only the beginning of our mission to help other companies simplify compliance.
Moving forward, we aim to expand the Routing Filter capabilities, enabling companies to easily comply with other standards like HIPAA and various other regional requirements across the globe.
We are also excited to announce that bunny.net is currently undergoing ISO 27001 certification to further demonstrate our commitment to security and compliance best practices, instilling trust and confidence in our customers worldwide.
Building a privacy focused internet!
At bunny.net, we are dedicated to making the internet hop faster while prioritizing user privacy and simplifying GDPR compliance. With the introduction of Routing Filters, we are taking another significant step in helping companies adhere to stringent data protection regulations without sacrificing performance.
If you require strict local data compliance for your company, this is now just a single click away, so we invite you to hop into your dashboard and give it a try!