Despite 2022 somehow starting even more crazy than 2021, we are continuing our mission to make the internet hop faster and hopefully make the world a better place.
Today, as part of that mission, we are delighted to announce Bunny DNS! A brand new, scriptable DNS platform to help build and power the internet of tomorrow, help developers simplify complex routing challenges, and finally, to pave some of the first steps towards our bigger vision we have for bunny.net.
Rethinking Internet Routing
DNS is an old concept with a huge list of great services already available out there. With that in mind, we didn't want to reinvent the wheel. Instead, we wanted to completely rethink how we look at internet routing and what new problems we can help solve with DNS.
In a legacy system, DNS is seen as a simple table of records that act as an internet map. But we believe DNS holds a lot more power to solve some otherwise tricky challenges. This is getting increasingly important, especially in a world where systems are becoming increasingly complex and computing is moving right to the edge.
When we built our SmartEdge routing engine to power Bunny CDN, we were faced with the difficult challenge of orchestrating a global routing system that takes in millions of metrics and thousands of health checks every second to deliver a seamless experience to almost a million websites powered by bunny.net. There simply wasn't a solution out there that would have allowed us to do this. In the end, we ended up building our own. It was then when we decided we wanted to bring this superpower to everyone, only much simpler.
We wanted to deliver a powerful new way of dynamically routing traffic to solve even the most complex routing scenarios out there with a few simple lines of simple JavaScript code.
For example, some use-cases we imagine are service discovery, DNS verification connected to a HTTP backend, smart load balancing, complex global routing based on the geo-position, country, IP and other parameters, powerful multi-CDN integration, security systems, and so much more. We've even built a DNS clock with it.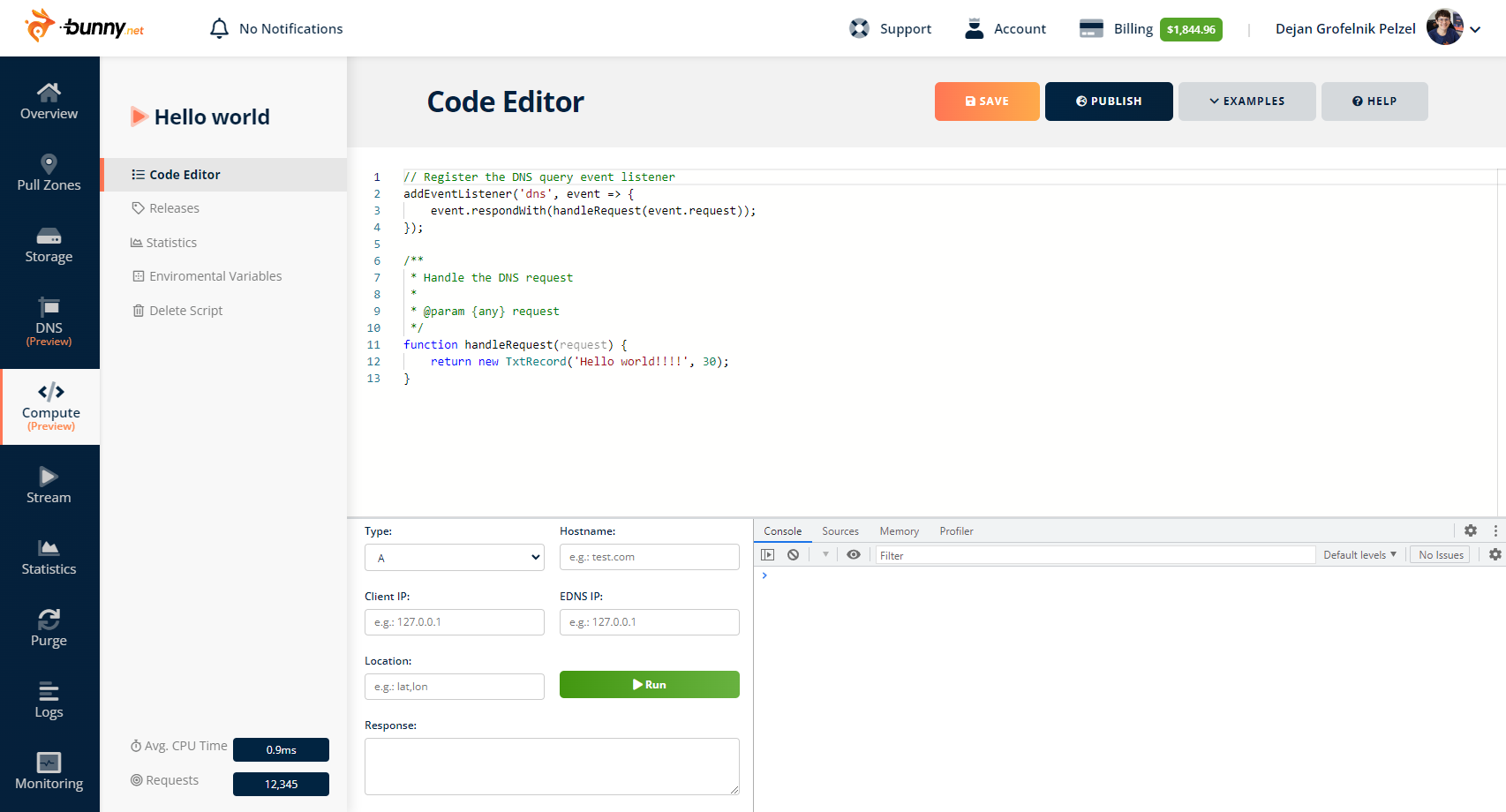 Bunny DNS helps you leverage a powerful routing platform to simplify a whole set of otherwise tricky problems and we can't wait to see how it is being used in the real-world.
Here's an example snippet to return a Hello World! TXT record:
On top of that, we also prepared a set of helpers to simplify load balancing, monitoring, geographical routing, consistent hashing, and much more. The documentation for this will become available as we get closer to the general release.
Simplifying CDN Integration Through Integrated DNS
Besides completely reimagining internet routing, we had one additional goal in mind: Simplifying the Bunny CDN integration through an integrated DNS system.
While bunny.net already helps power almost 1 million websites and recently scaled our network backbone to a whopping 80Tbit, we still have ways to go and an ambitious plan for the future. We want to help developers solve more problems and easily build and accelerate global applications to help make the internet hop faster. Providing a powerful yet simple DNS is the first step to making that a reality.
By simplifying the CDN integration and taking control of the DNS, we designed a very simple way of integrating all different bunny.net products. This way, we can bring more power to the platform. Our #1 core value at bunny.net is innovation, and Bunny DNS just unlocks a whole lot of it.
We believe products should be as simple as possible yet packed with features, and we continued to carry this mindset into DNS. While scripting records might sound complex for some, they are completely optional and the rest of the interface allows you to very easily manage your DNS records.
Simply clicking our bunny, you can now easily configure and link a new CDN Pull Zone to a DNS hostname. If we can save you 5 minutes of your time configuring the CDN, that's 5 minutes more you can spend on other things.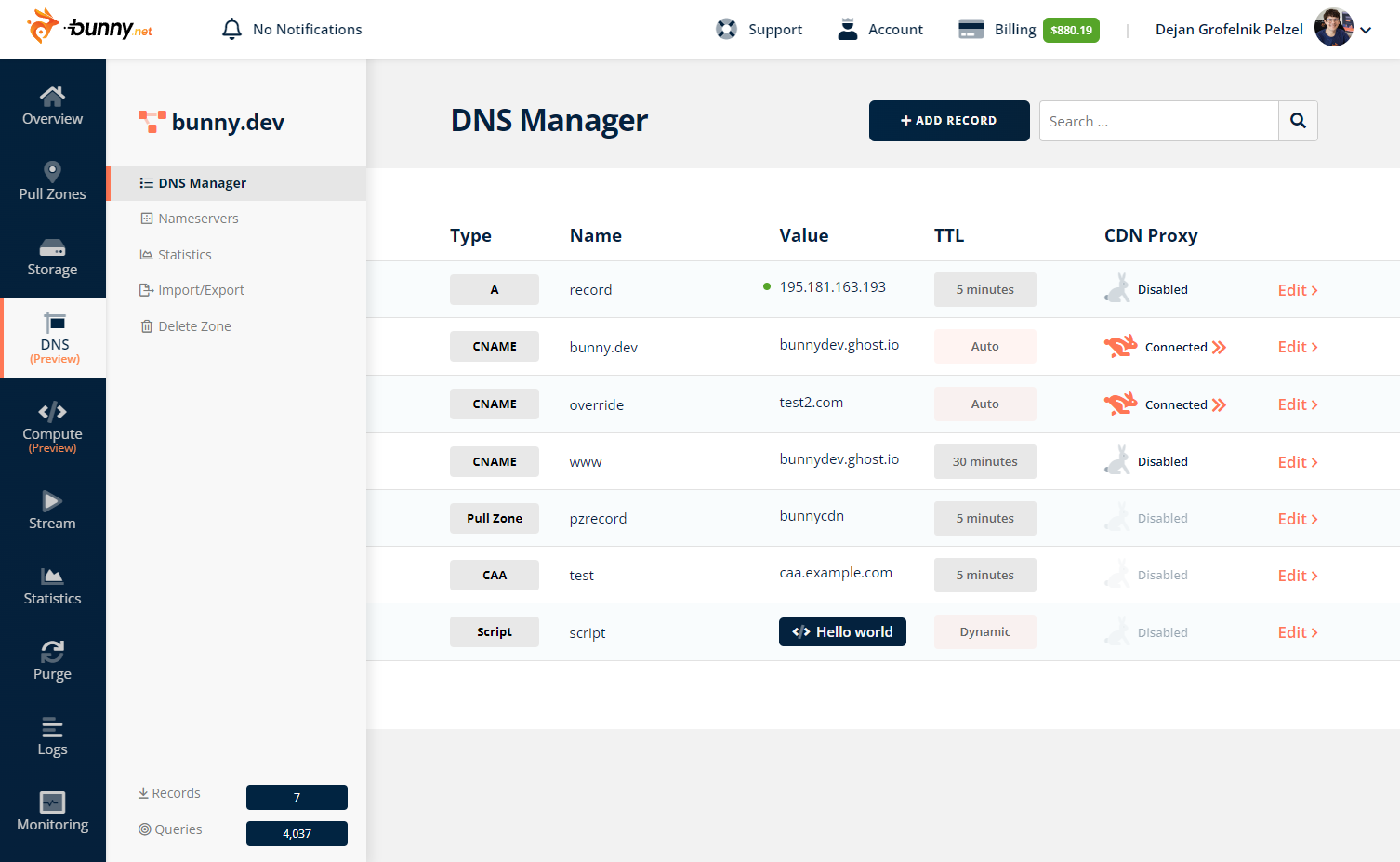 Big NO to Lock-in
While locking users into a platform by forcing everyone to use your DNS system might be good for customer retention, it's a nasty practice that we at bunny.net try to avoid at every step. We believe our customers should stay with us because they love our platform, not because getting out is way too difficult.
That being said, the DNS is completely open and optional, and integration between Bunny CDN, Bunny DNS and other bunny.net products are completely up to you. We invite everyone to use strictly what works for you. If you simply need to accelerate static content such images, videos or downloads, there is, in fact, no need to use the DNS at all, and you can continue using your existing DNS service that continue to seamlessly integrate with Bunny CDN.
Packed With Features
One of the goals when we are designing a new product is to make it extremely feature packed while staying as simple as possible. We are glad to say we are bringing this philosophy to Bunny DNS as well.
Out of the box, Bunny DNS allows you to easily configure automatic IP monitoring, weighted load balancing, full raw logging, custom nameservers, and more, completely free of charge and with just a few clicks.
We are also finalizing DNSSEC support as well as other advanced features before general availability. If you do find anything that's missing during the preview, make sure to let us know. It's our vision for Bunny DNS to be the most powerful DNS platform on the planet, and we can't wait to hear your feedback to make it even better.
Privacy First
As a European company, we always think privacy first.  Besides the user-facing logs, Bunny DNS stores absolutely no personal information except whatever is required for security reasons. We are committed to helping our customers collect and process as little information as possible and letting end-users' personal data remain their own.
Pricing That Is All About You!
Finally, we're down to the pricing. We're delighted to say that the basic core DNS will be completely free of charge. For the scriptable DNS, we are aiming to match the traditional pricing of legacy DNS providers with an aim to hit pricing between $0.1 to $0.4 per million queries.
At bunny.net, we aim to be the most customer-centric company in the industry and that includes the pricing as well. It's our goal to provide a completely reimagined new system at the same low cost and help our customers hop ahead.
Unlocking the full power of bunny.net!
While we're excited about the new superpowers we are bringing to DNS, we see this as just one of the components to help us pursue our bigger vision. We are on a mission to help make the internet hop faster and with every decision we make, we ask ourselves how this plays with our goals.
We have an ambitious roadmap ahead and are full of ideas of how we can make the internet a better place, and DNS is the main ingredient to allow us to get there. We hope to upgrade bunny.net, which is currently one of the most powerful platforms for static content delivery to the next level and solve a whole set of other problems to help make your whole web presence hop faster.
Sign up for the preview!
If you're excited about taking DNS to the next level or simply want a one-click way to accelerate and protect your website, we're thrilled to announce that starting today, we are opening Bunny DNS for early preview signups. If you're interested, make sure you log in and sign up for early access.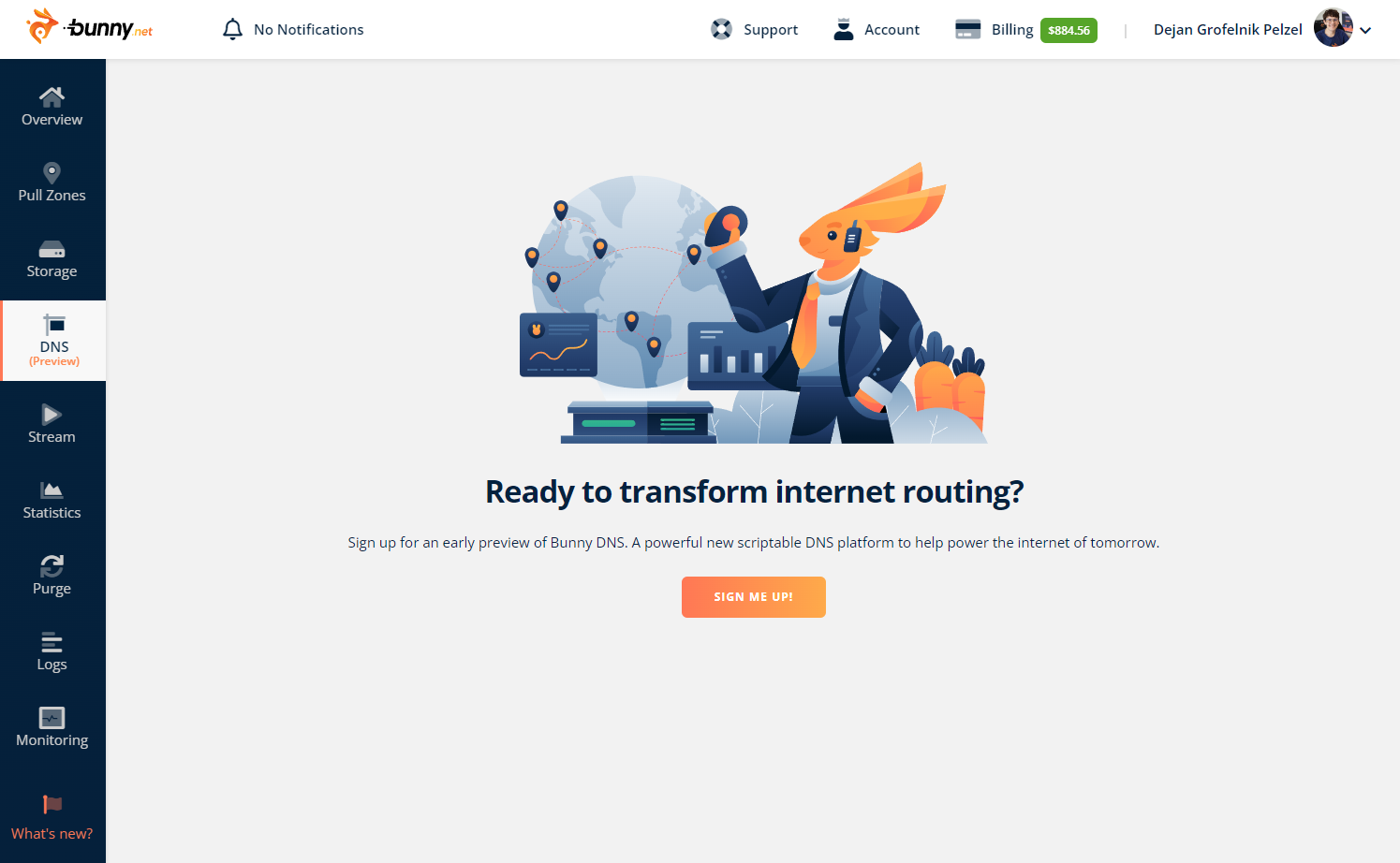 Initially, we plan to onboard a small set of users to get feedback, sort out any remaining bugs and finalize some of the features. We then plan to open Bunny DNS for public preview in April.
Help us build the internet of tomorrow!
If you align with our vision of helping developers make the internet hop faster and enjoy solving complex technical challenges on a large scale, make sure to check our Careers page! We have an ambitious plan and looking for a set of amazing new team members to help build the internet of tomorrow!