2012
It all started with a simple problem
In 2012 Dejan Grofelnik Pelzel faced a big problem - he had a website he was working on that was causing an ever-increasing traffic bill. A few terabytes of CDN costs were almost as high as his monthly paycheck, but he could never understand why.

Why were CDNs so expensive when network infrastructure was so affordable? CDNs were either grossly overpriced or didn't work, but Dejan didn't let that stop him. He always loved a challenge, and the solution was obvious.
2013
First concept of
in-house CDN
Dejan went into action, and a few sleepless nights later, the first concept of a CDN with just 3 servers was born. He solved a problem and gave himself a pat on the back. As he was monitoring his website's performance, a light turned on in his head - "If I need this, surely there are others with the exact same problem!".

The CDN market was a giant enterprise dinosaur focused on profits - not on creating value. Since Dejan always loved solving problems, he took it into his hands to build something extraordinary and fix the Content Delivery Network landscape for other developers.
2015
BunnyCDN was born!
Before he knew it, Dejan became obsessed with building a service to disrupt the overpriced content delivery market. He focused on a product available to everyone - not just large enterprises.

Every beginning is hard, but that did not stop him - quite the opposite. It fueled his passion and dedication to building a world-class product and changing how people view content delivery. Without funding or a large team, the project grew, and finally, in 2015, BunnyCDN was born with 8 PoPs worldwide and a strong focus on reducing content delivery costs.
2018
The first Bunny Office opened
Developed as a side-project by a single person without any funding, it took a few years for the service to take off. But it was in 2018 when things turned - BunnyCDN started growing rapidly!

Thousands of new users every month began aligning with the service's vision and were fed up with the overpriced CDN market. With some help from his friends, Dejan could finally quit his job, focus full time on building the company and even open the first Bunny Office. With more time on his hands, Dejan started focusing on bringing value and developing advanced features under a very simple interface that users really loved.
2021
The start of a new vision
The year 2021 is the year everything changed. After seeing the impact that BunnyCDN had on the world and how many new problems it could solve, a much loftier goal was born in Dejan's mind: to push the company and the internet itself to the next level. This marked the end of BunnyCDN and the start of bunny.net with an ambitious new vision of truly making the internet a better place, focusing on relentless innovation, and making complex problems at scale as simple as a few clicks.

Today, our team of experts is working to help solve some of the most complex global challenges and help shape and power the internet of tomorrow. In short and simple: we're making the internet hop faster!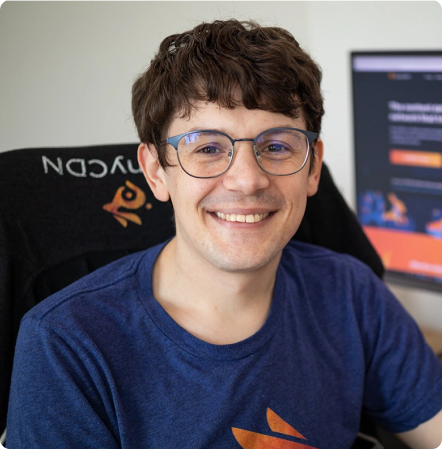 What started with trying to build a great CDN has grown into a passion to speed up the internet and really innovate the market.
Dejan Grofelnik Pelzel
Founder & CEO of bunny.net
The question everyone has been asking us
Why the name bunny.net?
Why bunny.net? Why not QuickEnterpriseCDN?
The answer is simple.

We're on a mission to offer an enterprise-grade service with enterprise-grade features in a simple package that is approachable and affordable to anyone. No sneaky contracts, no complicated features, just a passionate team trying to build a fantastic service for everyone to use.

Even though our vision evolved through the years, our passion and core values have always remained the same. As one of the cutest and fastest animals on the planet, for us, the bunny symbolizes just those core values. Like our team, it's a funky and unconventional brand, but a brand we deeply believe in. Also, who doesn't like bunnies?
Start Your 14 Day Free Trial
Join over 35.000+ satisfied customers already using bunny.net
No credit card required – Complete Registration in under 2 minutes.